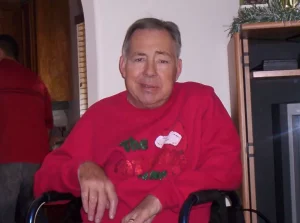 With what literally feels like a blink of an eye, the holiday season has descended upon us yet again. I love so many things about the holidays. I love that people are kinder to one another. I love the smell of pine cones and Christmas trees, holiday treats made with cinnamon and nutmeg. I love how beautiful the homes look with their festive lights. I love seeing the blow-up Santa wearing an aloha shirt and riding a jet ski. I love that I get to wear my leopard printed Santa hat with flashing lights to work daily. I love that during this time of year I know the words to all the songs, and that my adult children will sing them with me.
I miss my dad
Christmas was his favorite holiday. My father was a gifted florist. Our home looked like a Macy's Union Square window display; sprawling, delicate arrangements of holiday poinsettias adorned nearly every room. Bing Crosby Christmas songs filled our home. Packages held together with glittery gold and silver ribbon, with big brilliant bows, often displaying a butterfly or two, lay under our tree. His hand crafted stockings hung from our homes mantle; they hang from my holiday mantle now.
Lost in the scent of the coffee cake he'd make on Christmas morning, I can still see him standing there, all 6'7 of him, with his long skinny legs wearing a candy cane stripped night shirt and matching Santa hat. I can hear him bellow, 'It's time to get UP!" I love that he used to wear his red, coffee stained Santa sweatshirt long after the gifts were unwrapped and the decorations had been put away.
The memories of my dad during the holidays would paralyze me. I'd think, "How could a heart so full, feel so empty?" I'd cry hanging every ornament. The struggle was real.
Then one year, as I was sorting through old family pictures, I came across an image of all 6 of us wearing the same pajama print, huddling around the Christmas tree, even the dog.
I thought to myself, "what am I doing?" How was I honoring my father's memory by sulking around on his favorite holiday? This man was the epitome of everything that is awesome about Christmas. But was I?
Had I allowed my grief to block my dad from living through, ME?
I love Christmas. Because he showed me how to LOVE Christmas. With every silly song, and crazy hat. Every blinking light and ugly sweater. And all the stories of holidays passed. To his incredibly thoughtful and awesome tradition of hand writing Christmas cards (he never missed a year). His kindness was authentic and felt by all that knew him. THIS was my dad.
This holiday season I decided, that in addition to missing my dad (because that will never go away), I will also thank him. I thank him for showing me the true meaning of Christmas, and for reminding me why I miss him so much. Both are truly about one thing – LOVE.
As I head out to buy the Christmas cards (that I will hand write this year), and blow the dust off of my silly hats, I just want to say, "Merry Christmas Daddy, I miss you.